Amazing rugs with unique designs, features, and textures from Traditional to Rustic to Modern.
Your trust is our success!
Renowned for their rich colors and interesting designs, Persian rugs are made with all-natural wools, silk and vegetable dyes, rather than synthetic materials. Because of their painstaking craftsmanship, Persian rugs are also highly regarded for their quality and durability.
Capture the old American west with our variety of native american, spanish and American western rugs.
For some tradition is best because tradition is timeless. Visit our gallery today and browse our hundreds of traditional rugs that are sure to complete that room you have in mind.
For thousands of years people have sought after rugs from across the asian continent. Come visit our rug gallery and find that perfect oriental piece.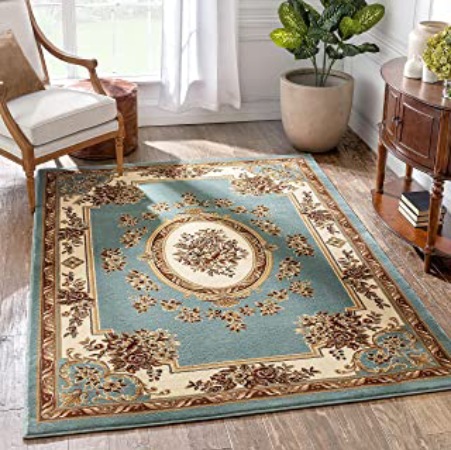 When modern and current is the goal for your space, be sure to browse through our hundreds of latest choices from the hottest rug makers from around the world.
Transitional rugs combine the best of both traditional and contemporary styles. They draw inspiration from the classic designs of traditional floor coverings and combine them with fashion-forward designs and color schemes from contemporary offerings.
Lodge or rustic rugs feature warm and rich colors that include wildlife, pine cones, and a variety of other rustic themes. Whether you own a Cabin, a Cottage, a log cabin or a Vacation home, let us help you create a blend of Rustic Decor with a rug from Aladdin Rug Gallery.
There's just something so warm and inviting about a home full of charm, cozy character and rustic design. Back in the day, farmhouses were decorated using whatever was on hand and practical. Now, thanks to the lovely Joanna Gaines, the farmhouse style has blossomed to new heights with a more modern, rustic feel with every detail being well thought out and executed.
A modern rug is an essential accent piece for any living room, bedroom or dining room. Contemporary rugs can help define the theme and color palette of a room, protect floors, and absorb the noise of day to day life. If you're looking to complement a modern aesthetic, look for a modern rug with bold patterns, like chevron or stripes, or abstract designs that make a statement.